Home | Blog | Gallery | Art for Sale | Commissions | Credits | Email

Biography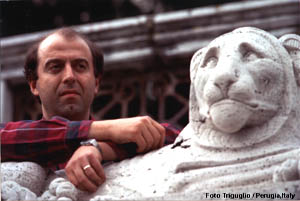 Comic books are not to be taken for granted. There is so much behind this art form which involves the mathematics of visual perception, the psychology of forms and the mythology of modern urban legends. These are the comics I like to draw.
Comic books have always been my passion. When I was 10, I used to draw silly stories on notebook pages and trade them with my friends for a donought. I even tried to sell them by subscription. When I turned 12, the Italian Batman comic book published one of my little drawings . That's when I thought, "Hey, I can really do this!"
I broke into comics as a professional in 1988, drawing POWER PACK for Marvel. After a few issues, I graduated to MOON KNIGHT which kept me busy for the next few years. A few more odd jobs for Marvel and then I took off in "independent" territory illustrating stories for X-O MANOWAR, (Valiant) GREEN HORNET, (Now) ARMOR,(Continuity) LAZARUS LEDD (Star Comics - Italy), and many more.
Between assignments, I did some non-comic book gigs, including an ad campaign and pamphlets for the UTAH and SAN DIEGO OPERA COMPANIES, various TRADING CARDS and character designs for VIDEO GAMES such as Sony Play Station's JET MOTO.
I landed at DC COMICS, in 1992, where I made my debut on JUSTICE LEAGUE TASK FORCE. This was my "task" for two more years, followed by FIREBRAND, a character I co-created with writer Brian Augustyn.
FIREBRAND eventually opened the door for a bigger project with Acclaim Comics involving the revamp of BLOODSHOT, one of Acclaim's most beloved and feared characters.
In 1999, I returned to Marvel were I illustrated a miniseries starring one of my favorite characters, THE SILVER SURFER. I also became the most prolific artist on Marvel's BLACK PANTHER. (36 issues) For DC I then illustrated various JLA and JSA titles and occasional fill-ins for AQUAMAN and THE FLASH
Between 2004 and 2006 I collaborated with PENNY-FARTING PRESS on the critically acclaimed CAPTAIN GRAVITY AND THE POWER OF THE VRIL
My Current work includes illustrating a monthly feature for THE FRIEND magazine (published by THE CHURCH OF JESUS CHRIST OF LATTER-DAY SAINTS and translated in 36 langages) as well as an all-time comic classic, THE PHANTOM. (Published by EGMONT in Sweden, Norway and Finland, as well as FREW in Australia)

Interviews
You can find some of my interviews on-line at the following links:

Home | Blog | Gallery | Art for Sale | Commissions | Credits | Email